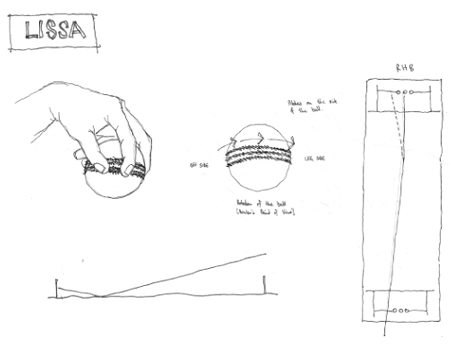 The Aussies claim ownership of the flipper, invented by Clarrie Grimmet in the 30s. Ari and I do not dispute this. Grimmet snapped his fingers along the ball's axis and made it skid off the pitch, keep low and, more often than not, connect with the wicket.
Mathew upped the ante by developing a ball that skidded and changed direction. He used it against tail-enders in the 1989 Australia series and picked up three wickets. Walking back after a skidding googly toppled his bails, pace bowler Merv Rackemann spat in the direction of the bowler. "You been sticking your dick into the seam, mate?"
Sadly, the strain on Mathew's fingers proved too much. The skidder or lissa as keepers in domestic cricket referred to it, was the first to be discarded after his injury woes of the early 90s. Despite the constant cries of "Lissa daapang! Lissa daapang!" by Bloomfield keeper Uvais Amalean.
Australia claims credit for re-introducing the flipper to the game courtesy of a portly blonde genius. This is where Ari and I part company. Mathew dismissed Rackemann, Alderman and Lawson with googly flippers in Melbourne in 1989. Two years before a great blonde hope rose from that very city.
Ari claims that it is probable that somewhere in the grounds Warne witnessed this feat and spent the next few years attempting to emulate it. That therefore it is correct to say that Pradeep Mathew indirectly revived the flipper.
I reply that if three tail-enders fall in the outback and there in no one to hear them, then no sound is made. And to attempt to convince an audience 10 years later that such a sound existed is an exercise in foolishness.